Quatela Center for Hair Restoration
973 East Avenue
Rochester, NY 14607
Phone: (585) 244-0323
Monday–Friday: 8:30 a.m.–5 p.m.

Traveling for Hair Restoration from Buffalo
Men and women considering hair restoration frequently travel from Buffalo to our Rochester, NY, practice. The Quatela Center for Hair Restoration is regarded as a leader in hair restoration in upstate New York due to our extensive experience and advanced techniques—and more. Dr. Vito C. Quatela, Dr. Heather Lee, and Dr. Alex Montague are personally invested in each patient's satisfaction and comfort, providing a high standard of care worth traveling for from well outside the area.
The Quatela Center for Hair Restoration is your destination for superior expertise, experience, and specialization. Our one local location affords accessibility to care, privacy, and support before, during, and after your procedure.
Hair Restoration Options
Our experienced facial plastic surgeons personalize each hair restoration procedure to the unique needs of the patient. They offer the following options:
FUE
The FUE technique (follicular unit extraction) involves harvesting individual follicular units containing 1 to 5 hairs from areas of the scalp not affected by hair loss. These units are used to fill in thinning and balding areas of the scalp one by one.
FUT
Follicular unit transplantation (FUT), also called the strip method, involves removing a strip of the scalp from the back of the head and dividing it into microfollicular unit grafts that are transplanted into balding areas. This option leaves a linear scar on the scalp.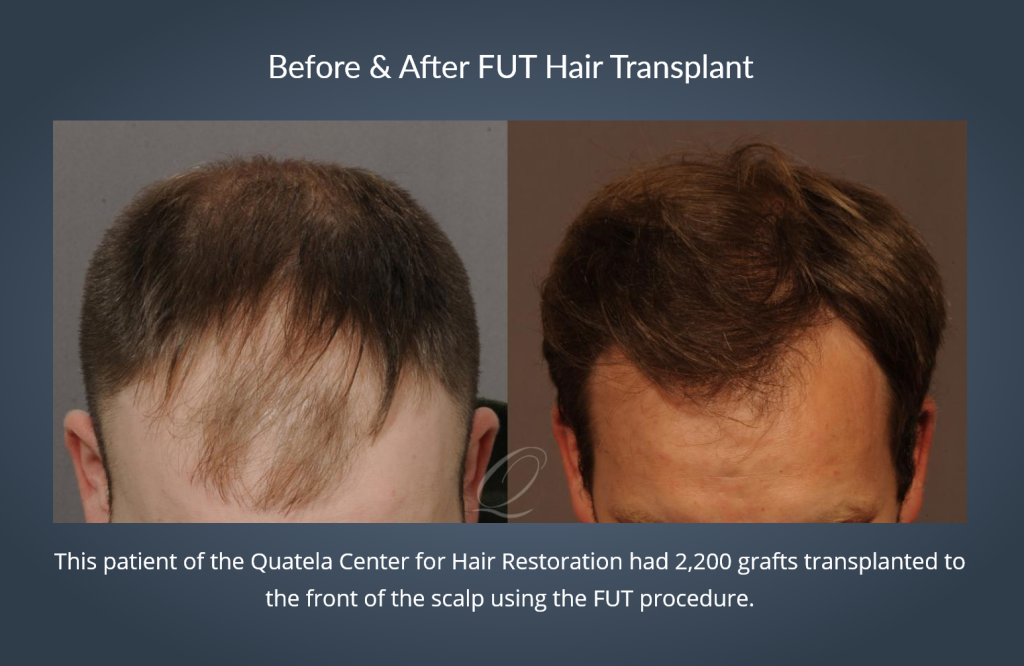 Hair Plug Repair
Our surgeons use advanced hair plug repair techniques such as camouflaging and hair plug reduction to correct unsatisfactory hair transplant results and restore a natural-looking hairline.
We encourage you to visit our online photo gallery for more of our exceptional, natural-looking results.
Nonsurgical Hair Restoration
We offer a variety of nonsurgical options such as prescription medication and PRP (platelet-rich plasma) treatments. These options can complement surgical results or help some patients slow or reverse hair thinning to postpone the need for hair transplant surgery.
Unparalleled Hair Restoration Expertise
Many Buffalo residents agree—it's well worth the drive to Rochester to have the utmost confidence in a hair restoration practice. Our team includes three exceptional hair surgeons who focus exclusively on cosmetic procedures of the face, head, and neck.
Vito C. Quatela, M.D., FACS
Double Board-Certified Facial Plastic Surgeon
Dr. Quatela is recognized worldwide for his expertise in facial rejuvenation and has performed hair transplant procedures for more than 30 years. He is a diplomate of the American Board of Hair Restoration Surgery—the only certification recognized by the International Society of Hair Restoration Surgery.
Heather Lee, M.D.
Double Board-Certified Facial Plastic Surgeon
Dr. Lee completed fellowship training in advanced hair restoration methods under Dr. Quatela. A specialist in procedures of the face and head, Dr. Lee is known for the attention to detail and meticulous technique she uses to consistently produce natural-looking results.
Dr. Alex Montague, M.D.
Double Board-Certified Facial Plastic Surgeon
Known for his exemplary skills in both technique and patient care, Dr. Montague is a double board-certified facial plastic surgeon and otolaryngologist-head and neck surgeon. He specializes in cosmetic and functional facial surgery and injectable treatments.
Our facial plastic surgeons possess not only a mastery of advanced hair restoration techniques but also a nuanced understanding of the way hair grows and what it takes to artistically create seamless, natural-looking results. They are supported daily by a highly qualified in-house team with more than 25 years of combined experience.
The Consultation Process
Your experience will start with a phone call. You'll be assigned your own Patient Consultant who will guide you through the entire process. During this initial call, your Patient Consultant will conduct extensive pre-consulting to answer any questions you may have and determine whether you are a strong candidate for an in-person consultation. If this is the case, your consultant will schedule an appointment for you.
When you drive in for your consultation, depending on the doctor you plan to work with, you may first meet with Brooke, Dr. Quatela's Patient Consultant, for an Image Enhancement Session. Brooke has more than 19 years of experience working with cosmetic surgery patients. At your consultation with either Dr. Quatela, Dr. Lee, or Dr. Montague, they will discuss your goals, look through before-and-photos of previous patients, and explore hair restoration approaches to determine the right treatment plan for you.
You will then schedule your procedure, which may be a month or 2 out, depending on your doctor's availability.
Testimonials From Traveling Patients
"Dr. Quatela performed two hair transplants (FUE and FUT), an upper blepharoplasty and a mid facelift on me. I am very particular and do not give credit where it is not deserved. Dr. Quatela did an absolutely amazing job on each of these procedures. I couldn't be happier with the way I was treated and my results. I have recommended Dr. Quatela to several friends and family members and will continue to do so. If you want the best, go to Dr. Quatela."

– C in Buffalo, NY
Your Procedure
In most cases, we conduct your preoperative appointment conveniently over the phone so you won't need to drive in until the day of your procedure. This may not be the case depending on your health history and current health concerns.
When you drive in for your procedure, you'll need to bring a friend or family member to support you and drive you home or to your hotel that evening. For your health and safety, we will not release you to a service such as Uber, Lyft, or MediCab.
Our nursing staff or physician on-call is available 24 hours a day to answer any questions and discuss any concerns you may have around your procedure or recovery.
After Your Procedure
We will see you back the following day for a postoperative appointment. The Quatela Center offers special rates at local hotels to eliminate the drive in for this appointment.
After that, we will see you in our office again for follow-up appointments at 3 weeks, 5 months, and a year, with additional appointments available if necessary.
INTERESTED IN LEARNING MORE ABOUT HAIR RESTORATION?
Our hair loss experts answer common questions about hair loss, treatment options, and what to expect before and after hair transplant surgery.
Review Our FAQ
Location & Driving Info
Our office in the historic Lindsay House is located about 65 miles west of Buffalo, just off I-490 W. The drive usually takes about an hour and 15 minutes.
Driving Directions
From I-190 S, take exit 1-52 to merge onto I-90 E toward Buffalo Airport/Albany.
Take exit 47 for I-490 toward NY-19/Leroy/Rochester.
Continue onto I-490 E.
Take exit 13 for Inner Loop toward Downtown E.
Turn right onto Union St.
Turn left onto East Ave.
The Quatela Center for Hair Restoration will be on the right.
Your Next Steps
Would you like to learn more about traveling from Buffalo to our Rochester hair restoration center? Please request a consultation online or call (585) 244-0323 to speak with one of our helpful Medical Receptionists.