Quatela Center for Hair Restoration
973 East Avenue
Rochester, NY 14607
Phone: (585) 244-0323
Monday–Friday: 8:30 a.m.–5 p.m.

Traveling for Hair Restoration From Syracuse
At the Quatela Center for Hair Restoration, we frequently treat men and women traveling from Syracuse to our Rochester, NY, practice. Dr. Vito C. Quatela, Dr. Heather Lee, and Dr. Alex Montague provide a level of care our patients know is worth the trip. Their specialized expertise and personal investment in each person's satisfaction with their results have earned the center a reputation as a leading name in hair restoration in upstate New York.
In one convenient location, the Quatela Center provides exceptional privacy and support through each step of the treatment experience. We are eager to show you why our high standard of care and results make the drive worthwhile.
Hair Restoration Options
As specialists in hair transplantation and restoration, our board-certified facial plastic surgeons provide the most natural-looking results by personalizing each of the following hair restoration options to meet the unique needs of the patient:
FUE
Follicular unit extraction, often called FUE, is a hair transplant technique that involves collecting tiny natural groupings of hairs, called follicular units, from areas of the scalp not affected by hair loss. The hair follicles are then implanted in thinning and balding areas of the scalp one by one.
FUT
FUT, which stands for follicular unit transplantation, transplants tiny microfollicular units of hair to fill out thinning and balding areas. This technique is sometimes called the strip method because the hair follicles are taken from a strip of the scalp that is removed from the back of the head. The FUT technique is less expensive than FUE; however, it leaves a linear scar on the scalp.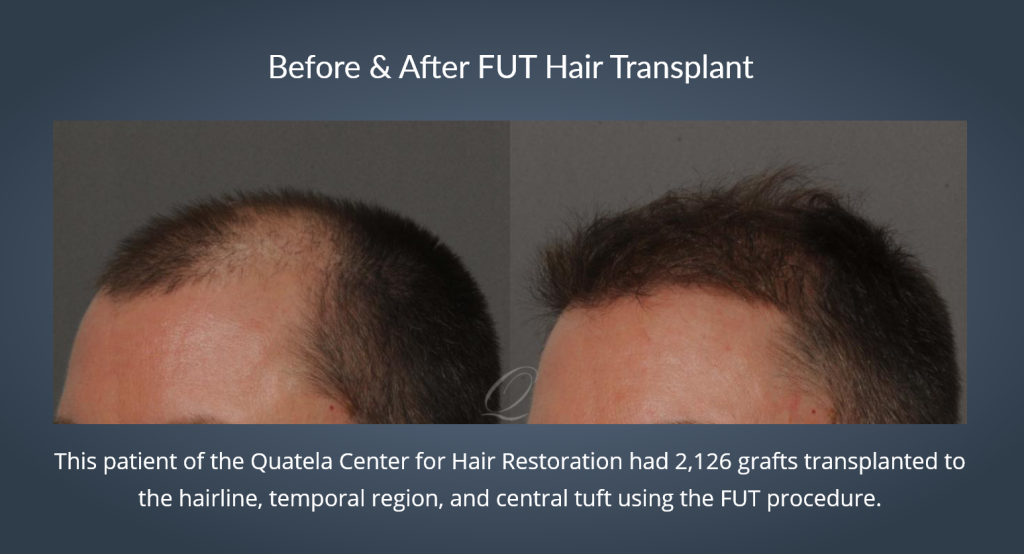 Hair Plug Repair
People who want to redo a previous hair transplant should consider hair plug repair . These advanced techniques, such as camouflaging and hair plug reduction, can renew the hairline while looking very natural.
We encourage you to visit our online photo gallery for more of our exceptional, natural-looking results.
Nonsurgical Hair Restoration
Our hair restoration specialists offer people who are not ready for surgery a variety of nonsurgical options such as prescription medication and PRP (platelet-rich plasma) therapy. In certain instances, these options can slow or reverse hair thinning or enhance the results of surgery.
Unparalleled Hair Restoration Expertise
Driving from Syracuse to Rochester is well worth the trip to attain unwavering trust and confidence in your choice of a hair transplant team. At the Quatela Center, each procedure is performed by some of the most experienced and qualified hair replacement doctors in the country.
Vito C. Quatela, M.D., FACS
Double Board-Certified Facial Plastic Surgeon
Dr. Quatela is recognized worldwide for his expertise in facial rejuvenation and has performed hair transplant procedures for more than 30 years. He is a diplomate of the American Board of Hair Restoration Surgery—the only certification recognized by the International Society of Hair Restoration Surgery.
Heather Lee, M.D.
Double Board-Certified Facial Plastic Surgeon
Dr. Lee completed fellowship training in advanced hair restoration methods under Dr. Quatela. A specialist in procedures of the face and head, Dr. Lee is known for the attention to detail and meticulous technique she uses to consistently produce natural-looking results.
Dr. Alex Montague, M.D.
Double Board-Certified Facial Plastic Surgeon
Known for his exemplary skills in both technique and patient care, Dr. Montague is a double board-certified facial plastic surgeon and otolaryngologist-head and neck surgeon. He specializes in cosmetic and functional facial surgery and injectable treatments.
In addition to masterful knowledge of leading-edge hair restoration procedures, our doctors possess an artistic eye In addition to masterful knowledge of leading-edge hair restoration procedures, each of our surgeons possesses an artistic eye and a heightened ability to create attractive, natural-looking transplant results. Our in-house hair restoration team works alongside Dr. Quatela, Dr. Lee, and Dr. Montague every day, using their 25 years of combined experience to provide skilled support during each treatment.
The Consultation Process
When you first contact the Quatela Center for Hair Restoration, you'll be assigned a personal Patient Consultant. Your helpful Patient Consultant will serve as your guide through each step of your experience. During an initial phone call, your consultant will conduct a pre-consultation by asking you questions about your goals, answering questions you may have, and determining whether you would benefit from moving forward with an in-person consultation.
After scheduling an appointment with the help of your Patient Consultant, you will drive from Syracuse into Rochester to meet personally with either Dr. Quatela, Dr. Lee, or Dr. Montague. Prior to meeting with Dr. Quatela, an Image Enhancement Session is available with his Patient Consultant, Brooke, who has more than 19 years of experience working in cosmetic surgery. At this consultation, you will have the opportunity to ask questions, explain your goals, and look through before-and-after photos of previous patients. Your doctor will help you decide which approach to treatment would be most helpful to you.
You will then schedule your procedure. Depending on availability, your scheduled date may be a month or 2 after your consultation.
Testimonials From Traveling Patients
"Excellent….from the moment you schedule your initial consultation with Dr. Quatela through the process of booking and coordinating your surgery with his experienced staff. Hair transplant surgery went smoothly with little discomfort, and the level of skill was evident throughout entire procedure. I'm glad I found the Quatela Center for Hair Restoration and wish I would have seen him sooner. I wouldn't go elsewhere, and am looking forward to winning this battle with my hair loss! Grazie Tante!!!!"

– V. Russo in Bethlehem, PA
Your Procedure
To eliminate an extra drive in from Syracuse, we typically conduct preoperative appointments over the phone. Depending on your current health condition, we may prefer to see you in person for this appointment.
You will need to travel in for your procedure with a friend or family member. This person will drive you home or to your hotel when your treatment is complete. For your safety, Uber, Lyft, MediCab, or other ride services are not recommended.
If you have any questions before or after your procedure, please call our nursing staff or physician on-call, who are available 24 hours a day to assist you.
After Your Procedure
We recommend staying in the area that evening as we will need to see you back the next day for a day 1 postoperative follow-up. We offer special rates at local hotels to accommodate this stay. For more information, please contact a Patient Consultant.
You will then be free to travel home to Syracuse. We will see you back for post-op appointments at 3 weeks, 5 months, and a year, with additional appointments available as needed.
INTERESTED IN LEARNING MORE ABOUT HAIR RESTORATION?
Our hair loss experts answer common questions about hair loss, treatment options, and what to expect before and after hair transplant surgery.
Review Our FAQ
Location & Driving Info
Our office in the historic Lindsay House is located about 85 miles west of Syracuse, just off I-490 W. The drive usually takes about an hour.
Driving Directions
From I-690 W, continue onto NY-690 N.
Take exit 1 to merge onto I-90 W.
Take exit 45 for I-490 toward Rochester.
Continue onto I-490 W.
Take exit 19 for Culver Rd.
Turn right onto Culver Rd.
Turn left onto East Ave.
The Quatela Center for Hair Restoration will be on the left.
See our contact and location page for more information.
Your Next Steps
If you would like to learn more about traveling from Syracuse to our Rochester hair restoration center, please request a consultation online or call (585) 244-0323 to speak with one of our helpful staff members.