Hair loss and thinning are common, for both men and women, but it's still a very personal, and many times private, journey. Oftentimes, people aren't comfortable talking to others about their hair loss, and they aren't sure where to turn when it comes to treatment options.
We believe that information is key to feeling comfortable and confident in pursuing treatment, and hearing about an individual's personal experience is paramount. So we asked four of our out-of-town patients, all of whom traveled from the Buffalo area, about their hair restoration journeys. Read below for their opinions on the process and what led them to hair restoration surgery.
What Motivated You to Seek Treatment for Your Hair Loss or Thinning?
The fear of being bald motivated me.
Was not happy with my hair loss. Felt it made me look worse.
My eyebrows have been thinning over the years. Also, part of one eyebrow was accidently waxed off.
Hair loss at a young age prior to starting a life-long career.
Motivation for seeking treatment often stems from the desire to look the age you feel, to avoid the hereditary balding seen in the family line, and to boost confidence! Hair can be replaced not only on the scalp, but for eyebrows as well.
Why Did You Choose the Quatela Center?
Close to home with good reviews.
Read online about different places that offered treatments and Quatela looked good to me.
Researched over the internet.
Excellent reviews and location convenience.
Many patients seeking hair replacement in Buffalo, Syracuse, and beyond travel to our office in Rochester, NY. We've found that when patients feel comfortable and confident in their hair restoration surgeon and teams' experience and results, it's worth the travel.
What Were Your Thoughts When You First Had Your Consultation?
Very knowledgeable staff.
Experiences with the staff were all good.
Everyone was extremely welcoming, informative and kind!
Excited and ready to move forward with the surgery.
Getting to know a hair replacement surgeon and his or her staff, along with their office culture, speaks volumes when looking for a practice where you feel comfortable. We strive to uphold an exceptional experience for every patient, and we are continually raising our standards to ensure patient satisfaction.
How Did You Feel Leading Up to the Procedure?
A little nervous.
Felt nervous; not know[ing] what to exactly expect with the procedure and subsequently the outcome. Was worried about the cost and how well the outcome would be.
A bit nervous, but mostly excited.
Excited and hopeful of a great outcome.
It's completely normal to be nervous before any procedure! Sometimes patients think that they need to hide this fact, but we understand the nerves and investment surrounding a procedure and maintain open communication to ensure all of your questions and concerns are answered.
What Would You Want to Make Sure Other Patients Knew About the Day of the Procedure?
The staff is great. The procedure itself is very long, and involves some pain.
Everyone was professional and caring.
Day long surgery where you are awake while the team works. They always check in to ensure your comfort.
Hair restoration surgery may take anywhere from 8-12 hours over the course of one day, but our team does their best to ensure you are comfortable throughout. Many patients sleep for a portion of the procedure, listen to music, or watch a movie to help pass the time.
The staff was great! From the nurse, hair techs, and physician. Everybody was friendly and knowledgeable. I couldn't ask for a better team.

-patient of the Quatela Center for Hair Restoration
How Do You Feel Post-Operatively? Describe the Healing Process and Results Thus Far
A little banged up, but not as bad as a previous transplant.
The healing went fairly well, no real problems thus far.
I am very happy with the healing process and results.
Slightly tender in the area of surgery. No severe pain and no complaints.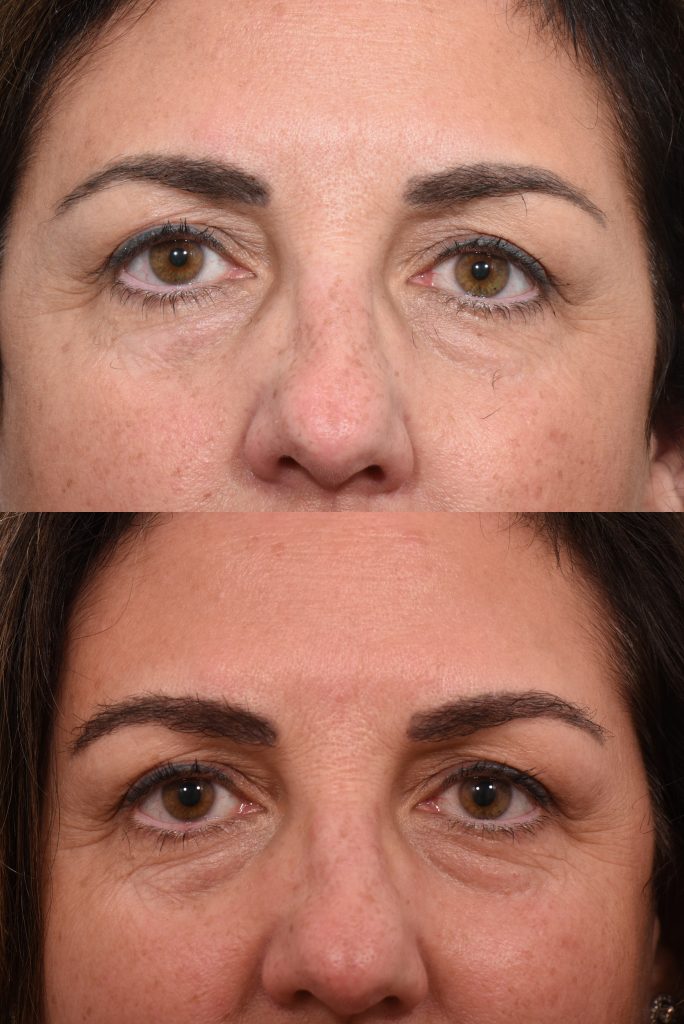 Hair transplant results can be seen at one year post-op, as the newly transplanted grafts take time to grow. Over the course of that time, patients have multiple appointments to ensure healing is progressing, and can call or schedule additional appointments if and when questions arise.
Did You Ever Feel Limited or Embarrassed by Your Hair Thinning or Loss? If So, How Did That Change After Your Treatment Was Complete?
Yes. More hair, more confidence.
Yes, I feel more comfortable about the appearance of my hair now.
I was self-conscious much of the time. I'm thrilled with how my eyebrows look now.
Hair loss, though common, is difficult to deal with. Most patients gain more confidence with thicker, fuller hair, and we love helping them get there!
What Are Your Top Tips for Someone Considering Hair Restoration?
Don't hesitate at all.
Do it!
Do it earlier in life. Don't wait until it's too thin, or bald.
Have a consultation and discuss the pros/cons.
Is There Anything Else You'd Like a Prospective Patient to Know?
It's not easy, but definitely worth it.
You will be walked through the entire procedure and well taken care of!
I was so pleased with every aspect of this experience!! Wonderful support staff and docs.

-patient of the Quatela Center for Hair Restoration
To learn more about hair restoration options and speak to a Patient Consultant about your personal hair loss situation and goals, call 585.244.0323 or contact us through our website.