Just like many things, our eyebrows play an important role in our daily lives. Thinning eyebrows can sometimes leave both women and men feeling self-conscious about their appearance, which usually encourages them to seek professional assistance to refine the problem. Many of our patients are mostly interested in an eyebrow transplant procedure as a way to restore the eyebrow due to previous hair loss in that area.
What Are The Causes Of Thin Eyebrows?
Some reasons that eyebrows may stop growing or fall out include: burns, scarring from previous surgeries, trauma, medications, autoimmune diseases, chemotherapy, and trichotillomania (over plucking).
A lot of our patients come to us because they do not want to spend hundreds of dollars on microblading or tattooing their eyebrows. They complain how they have to constantly return for touch-ups. Whereas, an eyebrow transplant is permanent.
What Is An Eyebrow Transplant?
An eyebrow transplant is a cosmetic procedure where hair grafts are transferred from the back of your head to your eyebrows using FUT (follicular unit transplantation) and/or FUE (follicular unit extraction) methods. Hair grafts are usually removed from the area around the ear or the nape of the neck.
During the procedure, grafts are harvested and then trimmed and sorted to assure the most delicate hairs are placed correctly to mimic eyebrow hairs. The eyebrow outlines are traced using special stencils and calipers. Eyebrow design is determined by facial shape, age of the patient, and existing eyebrows. Patient input is greatly valued during this process. Sites are then made by the providers to mimic natural appearing eyebrows in a herringbone-like pattern and grafts are placed.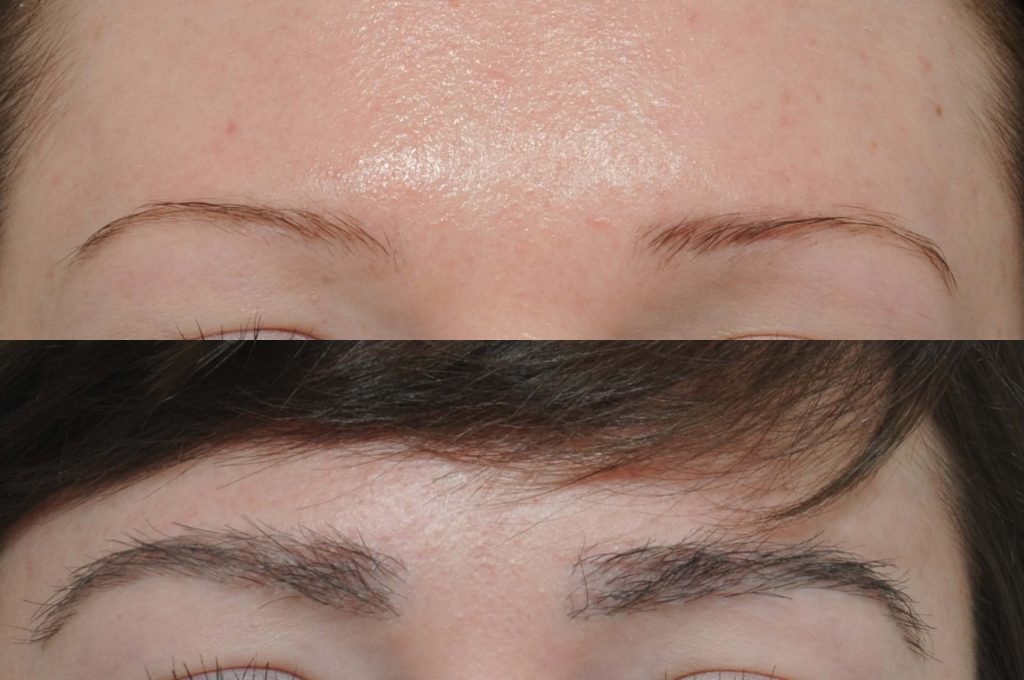 Who Is An ideal Candidate For An Eyebrow Transplant?
Those who have genetically thin eyebrow hair or little to no eyebrows.
Those who want to enhance natural facial features or have a desire for a more defined shape.
Those who have "overplucked" in the past.
Those who have had hair loss in the eyebrow area due to: trauma, medications, and scars or injuries.
Eyebrow transplant may not be suitable if you have the following:
Alopecia areata
Trichotillomania (Hair Pulling Disorder)
History of a bleeding disorder or dangerously high blood pressure
Eyebrow Transplant Consultation
A consultation is your opportunity to get to know the surgeon while also affording yourself time to ask questions. This will be done with one of our hair restoration surgeons, Dr. Quatela, Dr. Lee, or Dr. Montague, to determine your candidacy for transplant. They will present the ideal/realistic outcome based on your hair needs. During your consultation, education is provided to the patient regarding pre- and post-operative care and how transplanted eyebrows differ from your original eyebrows.
Eyebrow Transplant Recovery and Side Effects
Unlike a full hair transplant, recovery time is relatively quick for an eyebrow transplant. Post-operative instructions such as how to care and trim new eyebrows are provided. We do recommend patients avoid exercising for up to 3 weeks following surgery. It is completely normal for transplanted hair to fall out after a few weeks, and hair will continue to grow in normally in the months following the transplant procedure. Increased swelling will be present in the face, mostly surrounding the eyes. While complications are rare, should they occur, we recommend patients call or see their surgeon if they are experiencing any of the following after surgery:
Infection
Scarring
Excessive Bleeding
Bruising
Excessive Swelling
Nerve Damage
If you are interested in learning more about eyebrow transplant options, please call our office at 585.244.0323 to speak to a Patient Consultant.